You cannot upload a new file
RACO Signaling Mega-Pack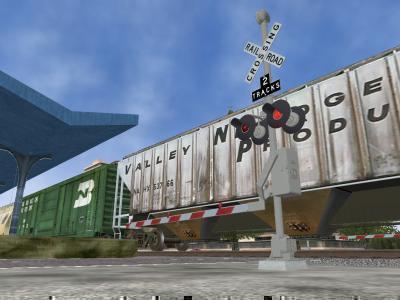 File Name

RACO Signaling Mega-Pack by That Genset Foamer

Submitted

21 September 2014 - 03:34 PM

Last Updated

21 September 2014 - 03:34 PM

File Size

6.78MB (Estimated Download Times)

Views

1630

Downloads

52

Support Topic
A kit for RACO crossing signals, a common West-Coast setup derived installed between the 1950s and 1980s on many secondary Santa Fe and Southern Pacific lines. Included are GS-class Hydraulic Mechanisms, Truss Cantilevers, three variants of 8x20 RACO flashers, crossbuck signs, bell shapes, and "combination" cantilevers. This pack is intended to be nearly standalone, although it can be used with Patrick Lopez's lights, bells, and signs as well as other sets. The only missing component are track signs, which can be picked up from RXRsignals.

Gates come in the following variants:
18': High & Low Masts
24': High & Low Masts

Cantilevers come with "combination" variants of any length from 12 to 28 feet (3 to 7 Panels) in 4-foot increments. All gates are equipped with GS-class Gate Mechanisms and Adapters, aluminum gate arms, 5" diameter masts, and 4" gate lights. See readme for more details.

Download File
You cannot upload a new file
Random Files
Download Statistics
Total Files

2,321

Total Categories

121

Total Authors

136

Total Downloads

84,152

Latest File:

MSTS / ORTS Lights Tutorial by slipperman (submitted 23 November 2020 - 03:08 AM)
8 user(s) active in the past 15 minutes

7 guests, 0 Anonymous Users