Just a couple of screenshots taken as I review my progress on various models.
4k dual screens (click to enlarge)

I'm working on the buildings on the left... a Beer & Flour warehouse at the south end and American Glass at the north end. This looks north along North Branch St.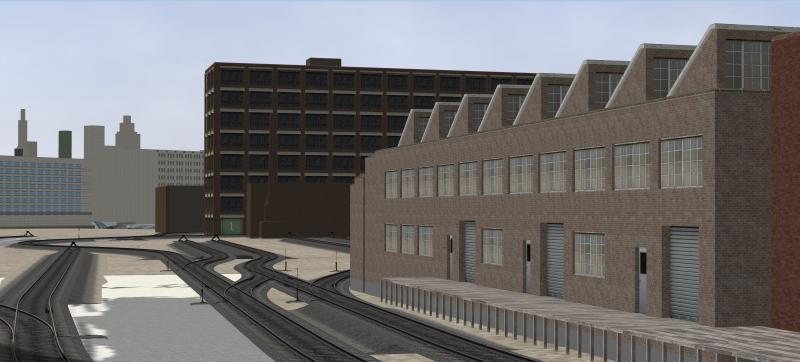 Looking south.
I don't have the owner's name for the warehouse so I will fall back and follow my habit of using the names of people in Chicago's North Side mob (pretty much wiped out at the St Valentine's day massacre), in this case Julian "Potatoes" so it'll be J. Kaufman & Son's Warehouse. This being 1947 I'll assume the improbable and unknown son runs the business. "Potatoes" Kaufman found his name on Al Capone's murder ASAP list and fled for his life. He settled in Miami and ran very profitable (and illegal) casinos -- 50% of the weekly take to the mob, 10% to the police, 40% to run the joint.
Over on the right is the largest warehouse in the route owned by Sprague-Warner doing business as a canned and dry food wholesaler. This huge warehouses are common in large cities and they'll receive shipments from the entire country. The route's setting, 1947, is around the time Sprague-Warner made an important purchase, snapping up a small Chicago bakery named Sara Lee. It continued in business as an independent company until 2012 when it was bought out by a corporate raider. The brand name remains in use.
The partially modeled building in the center is the Wieboldt Warehouse, a large Chicago soft goods retailer (18183-1987). When I'm done working on the model it will look a bit more like this: