MSTS/ORTS rolling stock collection

Images of favorite models in use. Discussion What is it/where to get
Posted 18 April 2022 - 02:58 AM
I assume that the VL15 is a DC version of the VL85?

---
Posted 20 April 2022 - 10:41 AM
How to say...
Brief-speaking, yes.
But I'd say, it just uses 85's case and control stand. Actually, this is double VL10 (two sections in every of two cases). And some of VL15 are MU-capable. 24-axles!
I'm going to read some materials about it (Wikipedia is initial point for evaluation, I think), because V.A.RAKOV didn't cover them in his review...
Once I've downloaded the semi-official book for staff, but I need to search it.
Then, I'll report here, what I've learned. Unfortunately, the State was destroyed and the project wasn't finished. Less, than 30 locomotives were built. They all were different in and outside (tuning versions). Try to compare #1 and #22's exterior.
Here
and
here
.
More precise to say, AC VL65 is one-sectioned VL85 in two-cabbed case.
Now, the bet is on 4-axles sections, as VL11(80c). Or, maybe it's because their plant was in the city of Tbilisi.
@Dave.
I was inspired by
the screenshot
of ВЛ23's face: brush-painted yellow stripes, cracked paint-coat, rust below cracks.
For such well-textured models I have decided to start this thread.
Add:
Post#7
shows 3-sectioned VL-11, by the way.
At her front, you can see shields, covering multiple sockets for MU cables connection.
Just forgot: for being fair, polite and grateful, I should mention every model's authors, so I'll do that with time.
---
---
---
Posted 04 November 2022 - 05:53 AM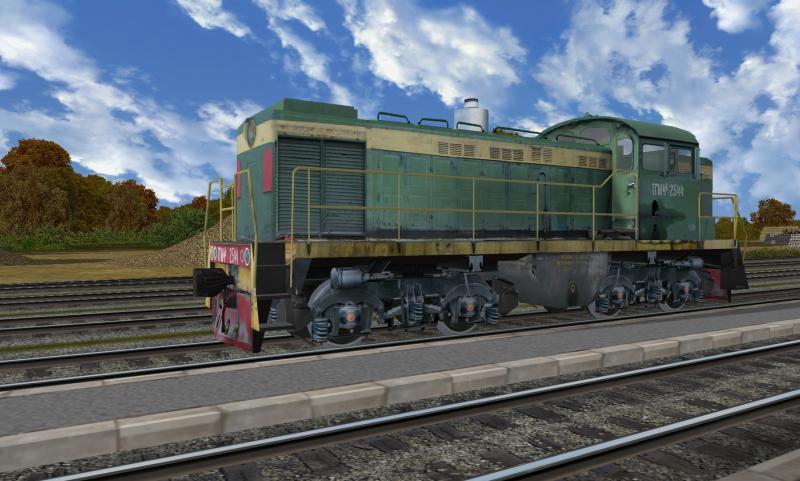 750hp diesel-hydraulic industial/switching locomotive
route Balaton-Del by Dies Irae
post#5
updated.
---
---
---
Posted 12 November 2022 - 09:40 AM
---
---
Posted 18 December 2022 - 11:39 AM
---
---
1 User(s) are reading this topic

0 members, 1 guests, 0 anonymous users