I want to refer back to
Activity Consistency of Operation
, a thread that ended nearly a year ago with no consensus being reached.
Steamer_ctn has provided us with the Starter Kit promoted on the Open Rails home page. It's a fine set of tutorials based on steam traction and, being the contact person for the website, I get positive feedback on it from newcomers.
We badly need more tutorials (diesel traction anyone?), especially with more complex operations like TCS coming along.
The aim of the earlier thread was to discuss ways to ensure that a tutorial activity would behave in a predictable way for all users. User Options which are critical to the tutorial can be specified in the Briefing (or a separate document) but, as Woodfyr and Gerry both noted, these are easy to overlook. That leads to a poor experience and wastes our time in investigating spurious problems.
Carlo identified 3 user options which might be given early retirement and others made valuable contributions too.
We ended up with opposing viewpoints which I try to summarise as:
The proposal extracts all critical options from the activity file and applies them to override any conflicting options selected by the user
The proposal goes against the Open Rails practice of giving the user full control and complicates an aspect of OR that is already difficult for users.
After a long time we are no further forward on this important issue, so I am trying here to reconcile these views with an alternative approach.
My suggestion is:
The user is instructed in the Briefing to set any User Options which are critical for the activity (as currently).
that we make use of the code proposed to extract critical options from the activity file.
that RunActivity.exe checks that these critical User Options are correctly set.
a simple dialog informs the user if he has omitted to set any.
if the user chooses "No" to press on regardless, this is recorded in the log file.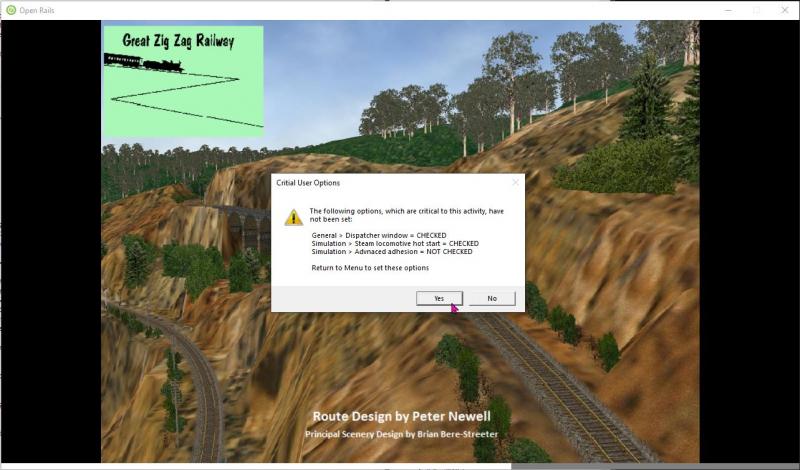 Is this an acceptable way through?