As a result of a request I have reviewed some of the code for how a diesel locomotive performs, and have noticed some anomalies.
I am proposing to fix these.
The first one is as a result of the way that the code handles the specification of power levels in the locomotive.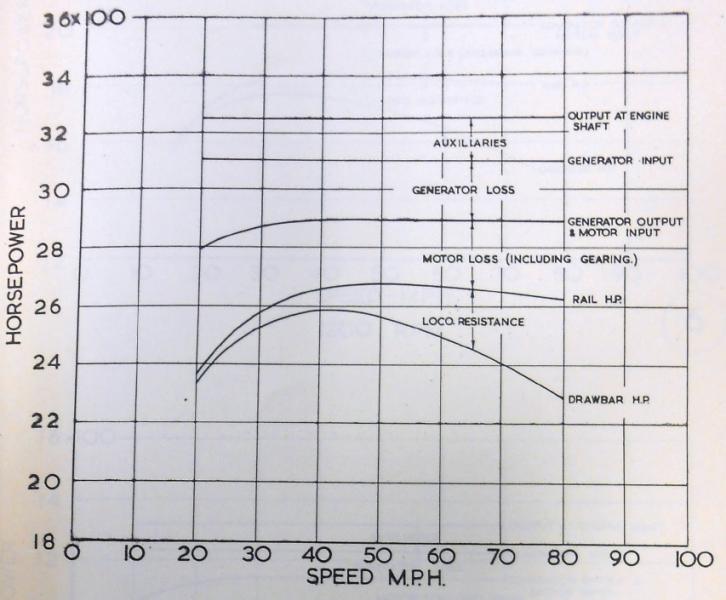 A diesel electric locomotive uses a diesel prime mover to generate electricity (using generators naturally) and this electricity is then used to drive traction motors to turn the wheels.
Thus we have a number of energy (and power) conversions. Each of these conversion will result in a small loss of power.
The above diagram (taken from a BR test report) describes the effect.
The "Output at Engine Shaft" describes the output power of the Diesel Engine (or Prime Mover). Typically most diesel locomotives are described by the Prime Mover power, for example 2000hp. As suggested there follows a number of power losses, such that the RailHP (Power to the Rail) is less then this value. For example a diesel might operate at 83% efficiency, so in our locomotive the RailHP will be 1660hp.
The OR parameter MaxPower should be set as the Power to Rail value.
If DieselPower and Traction curves are defined in the ENG file then the two power values seem to be correctly displayed in the HUD. However with a BASIC ENG file configuration where these values are not defined, the Prime Mover power and the Power to Rail value are the same.
To enable an appropriate difference to be displayed, and extra OR parameter will be added to specify the Prime Mover Power.
This and some other anomalies will be addressed as part of this
blueprint
.