This is a copy of a reply I just gave to a member here concerning how different versions of OR draws my models of Northern Pacific W-Class 2-8-2's, on every route tried. The latest builds do not handle placement of the Mikados' front driver spokes correctly, actually reversing it's coordiates, as explained here:
"Thank you for mentioning this, and although I've been aware of it for some time, you are the first to mention it and I appreciate you doing so, for it tells me it is not just on my machine. This is a bug in several versions of Open Rails. I did some checking and found a version, X3408, that does not transpose the front spokes over the rear driver. That is what we're seeing in most versions, including the latest "stable" v.1.2.3766. What it does is it reverses the coordinates of the number one driver spokes from forward of the model's origin to a minus position, near the rear driver. I had trouble seeing in your night time screen shots but I did see the air gap in number one driver where the spokes were supposed to be. Here is a comparison shot between the two versions. I run a total of three different versions of OR for various reasons, ways the different versions handle different types of stock. That's one of the beauties of OR, we can run any version using desktop shortcuts for each one. I keep each version in a separate folder, I don't know if that's needed or not, but I don't want to chance a foul-up so keep them separate.
Version 1.2.3766: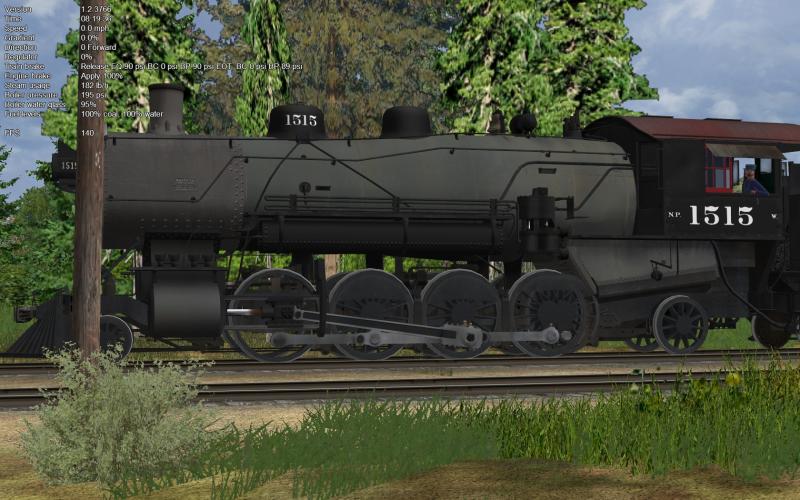 Version X3408: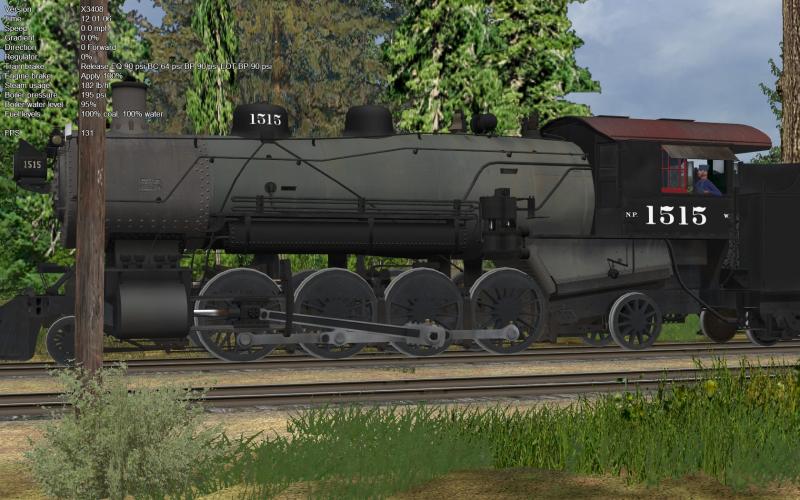 I just looked at the
OR Builds page
but X3408 is not listed. So, I'm attaching it here. Install it in a different location than your present v1.2.3677 and create a desktop shortcut for it.
I suppose I better bring this up in the Open Rails forum, now that I know it isn't just me experiencing this.
Thanks.
Tim"
All the spokes on all the wheels are separate to maintain their polygon smoothing feature, which is lost when joining with the wheel tires. A TSM foible.
Here are attached the log files from each version.
Thank you for your work. I appreciate it very much.
Tim Muir