Update Timetable Mode & Signalling

Update now committed
Posted 12 December 2017 - 12:05 PM
experimental version. if it works at home, you can tell me how you do.

---
Posted 30 December 2017 - 02:24 AM
Problem with Dense Traffic on a singe-track impasse:

I have tried to drive against dense Traffic on a single-track-Route.
But if I stay in a siding and there are many Trains from the opposite direction I have to wait until the last train has passed.
OR prefer always trains from the same direction.

Does somebody know what I can do (modify the signal-files?) so, that OR alternate the train-diractions at singletrack-impasses? I have tried also the function "approach_control_lock_claim()" (see post #1), Additional signal script functions) but I don't know exactly how it is to use?

Does somebody know more?

Regards
EugenR

---
Posted 30 December 2017 - 07:46 AM
Hello. I use commands $ hold $ nowaitsignal $ nohold on a single-track-Route. It can help.
Timetable with Consists OR and Paths
http://forum.trainsi...php?topic=239.0
for Route 202_80s
http://www.linia202....de/download.htm
https://kunifuchs.co.../2548-linia202/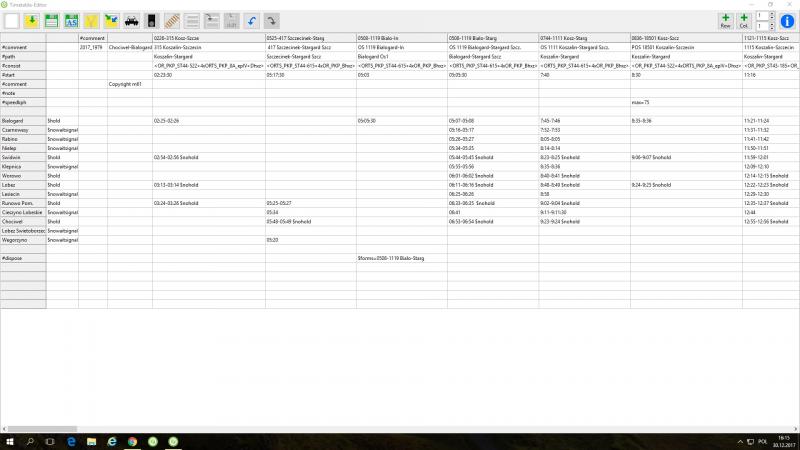 http://wstaw.org/m/2017/12/23/Open_Rails_2017-12-18_08-26-06_png_300x300_q85.jpg
http://wstaw.org/m/2017/12/23/Open_Rails_2017-12-18_08-55-35_png_300x300_q85.jpg
http://wstaw.org/m/2017/12/23/Open_Rails_2017-12-18_09-08-23_png_300x300_q85.jpg
http://wstaw.org/m/2017/12/23/Open_Rails_2017-12-18_09-10-02_png_300x300_q85.jpg
http://wstaw.org/m/2017/12/23/Open_Rails_2017-12-19_05-59-31_png_300x300_q85.jpg
http://wstaw.org/m/2017/12/23/Open_Rails_2017-12-23_01-33-56_png_300x300_q85.jpg
---
Posted 01 January 2018 - 09:00 AM

m61, on 30 December 2017 - 07:46 AM, said:
Hello. I use commands $ hold $ nowaitsignal $ nohold on a single-track-Route. It can help.

Hello m61,
Thank You for the information's.
But its not exactly what I am searching for.
I would like to drive forward, not with a hard timetable, and would like to meet dense traffic with different Trains in backward direction.
Now I Have recognised, that it is not the Problem of OR when at single-track sections trains from one direction are preferred.
I had on the single-track section placed a signal. If I remove this Signal, so that the single-track section is only one block-section, OR let pass also by dense traffic alternatively trains from both directions.
regards
EugenR
---
Posted 01 January 2018 - 12:12 PM

roeter, on 12 June 2017 - 02:04 PM, said:
It's allready possible to run beyond 24 hours - trains can be started after midnight by adding '$next' to the start-time.
I suppose it would be possible to add a '$next2' etc., to add even further days.
A 'restart' of the timetable after 24 hours is far more difficult. Not only would it require some kind of link between trains which finished there run and are stored as 'static', and what service they would form the next day. But the main problem is that when the timetable starts, all trains are processed and kept in 'memory' - allowing quick access when a train forms into another train.
At the end of the day, that stack of trains has been processed and is empty. To start again, it would be required to reform this database.
The value of having multiple days of running is limited - one will regularly have to save and restart a session, and there is little difference in restarting a saved session at, say, 02:00, or starting a new session at that time.
As said, using '$next' you can run trains after midnight, and by starting overnight trains at about 01:00 or 02:00, but terminating them later (about 03:00 or 04:00), you can simulate a real full day's work including full traffic around midnight.

Regards,
Rob Roeterdink

Is there a '$before' command as well? If you want a train to start the day before and be running in the early hours of the morning, you would need something like this, wouldn't you?
---
Posted 03 January 2018 - 03:07 AM
There used to be a note in the Dutch timetable, stating : "trains running after midnight are assumed to be the last trains of the preceeding day".
That's the clue here. A 24-hour timetable need not run from 0.00 - 24.00. Most passenger services do not run for 24 hours, but there is a break in services in the small hours. First trains often start around 04.00 or 05.00, last trains terminate after midnight. So a full 24 hour timetable including all trains of a 'working day' would run something like 04.00 - 02.00 (next morning).
For a line with overnight services (either passenger or freight) something similar can be done. Suppose it takes 5 hours to complete an end-to-end journey, then with starting all trains after midnight everything is 'in place' around 05.00. By repeating these early trains after midnight upto the ones starting after 05.00 a full timetable is available again, running from 05.00 - 05.00. Alternatively, trains running through midnight can be started at their first stop in the morning or at the approximate position where they would be around midnight.
So, there is no need to start trains before midnight. All that is needed is to pick a time when all required trains are running, and repeat the relevant trains after midnight using the $next command. The full 24-hour timetable is now available from that specific time.

Regards,
Rob Roeterdink

---
Posted 03 January 2018 - 09:54 AM
The problem for me is that I'm not really trying to run a passenger timetable, so I have to think of timetable mode in a different way. Freight trains run all hours, so a freight that starts at one end of the track around 10 or 11 pm will be somewhere on the track still at midnight or even 1 am (even if it takes only 4 hours to run the route; most routes aren't that big. You can run my favorite Full Bucket Line in a couple of hours or so going the speed limit). The closest thing to a passenger timetable would be manifest runs, which run on most mainlines around the clock. You add in coal trains and mixed freight as well as local switchers and it builds up the timetable with a lot of activity, and you haven't even thought about passenger activity yet. Therefore, scheduling a train before midnight would be something I would need in order to properly populate the line at any given point in time.

---
Posted 04 January 2018 - 12:53 AM
Greetings to All,

These days I'm trying to add helper operations to my timetable. According to the info I found on the web, MILW used mid-train helpers on the heavy grades. After a time I managed to simulate the helper pickup at Piedmont station, with cutting off the end of the train, reversing to the siding to pickup the helper, and then backing up to the cutoff string of cars. My only problem is that the reversing takes too much time. I mean, the train waits approx. 5 minutes before backing up. While there's 2 reversing operation, the whole thing takes ~15 minutes.

I'm not very familiar with real US Railroads, as I've never been there so I really have no idea how fast is a helper pickup in real life. Should I be satisfied with that 15min time?

Or is there maybe a way to reduce the reversing time in OR? Interestingly, in the same timetable when trains switch power from electric to diesel at Harlowton, reversing engines don't wait 5 minutes before backing up to the train...

Thank You: Peter

---
Posted 04 January 2018 - 03:44 AM
When reversing, an additional delay is added before restarting which represents the time required by the driver (engineer, if you prefer) to walk to the other end of the train.
In this situation that is not appropriate. To remove the additional delay, add a field to the timetable named : "
#restartdelay"
(near the top, e.g. immediately following the #start field).
For the reversing trains, set this field to : "
$reverse /additional=0
".
This setting will remove the additional delay.
---
Posted 04 January 2018 - 01:02 PM

eugenR, on 12 December 2017 - 03:05 AM, said:
New Findings about the Problem with approach_control_position_forced
The switch between has nothing to do with the problem, it depends on SNCA
If before the Signal with approach_control_position_forced(80) are placed signals with SignalNumClearAhead(2) or higher, this function doesn't work correct. The controlled signal is opening already if the train has passed the second signal before the controlled signal. Try in the testroute "app_con_pos_forced" the activity NSCA_2
If there are Signals with SNCA(1) placed before the controlled signal is working correct, try the activity SNCA1
Regards
EugenR
This Problem was fixed by Carlo in X4019
---
---
1 User(s) are reading this topic

0 members, 1 guests, 0 anonymous users