First route tour
Posted 28 August 2012 - 04:32 PM
If you need Chicago Grand Central let me know. I think it is off your map to be honest.

---
Posted 28 August 2012 - 04:57 PM
rfranzosa, on 27 August 2012 - 04:23 PM, said:
Hi Dave,

One could easily get lost in that route. I'd be happy to prove that when the time comes :D

Excellent work.

RGF

Oh, it's not so bad really... if you ignore the industrial track it's just a tall (2-3 mile), narrow X with a very short entrance/exit path occurring right at the center.
---
Posted 28 August 2012 - 06:57 PM
I envy you Dave, I have no patience to make buildings of my own...

Looks great though.

---
Posted 29 August 2012 - 11:17 AM
This looks like it's going to be a great route. We could all use another route in what can be considered the railroad capital of the world.

---
Posted 11 September 2012 - 07:48 PM
A few more screenshots to show latest progress. These are taken between south of Goose Island, approaching downtown Chicago... maybe a mile to mile and half of track.
What I'm trying to accomplish at this stage is put in very preliminary models of the structures... no need for details at this point in time.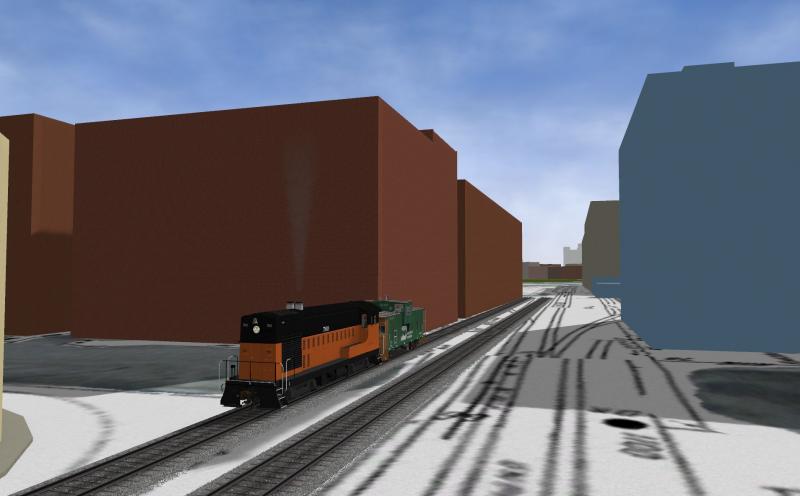 This is looking southeast from the National Tea warehouse -- same location I had previously had a 2-8-2 steam locomotive (see pictures above). It's about here that the height of the buildings goes up 5, 6, 7 stories, sometimes 8. That's in the 60-100 foot range. You start to get that "in the concrete canyon" feeling.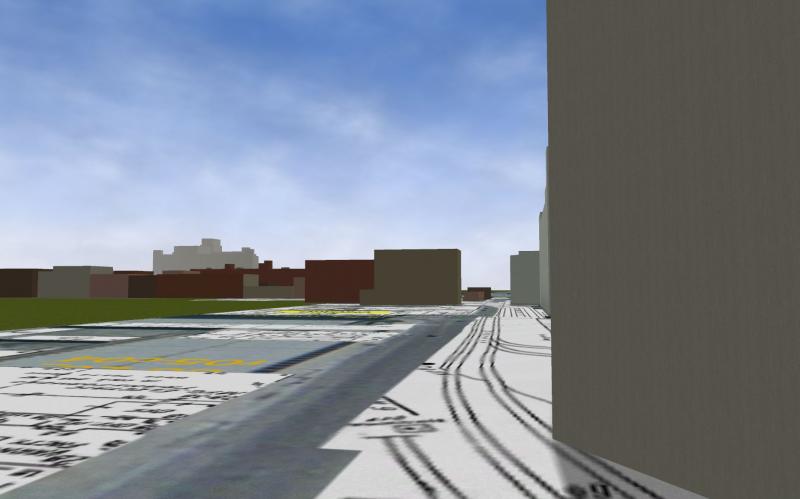 A couple hundred meters southeast of the previous picture the tracks take a tight curve around the end of a very large warehouse and head due south. The huge building in the distance is the Mechandise Mart (more below).
Another turn back to the southeast, with the tracks ending in 5 or 6 streets. On the left are numerous warehouses, lofts, & manufacturing facilities. Rail service is usually in a 18-20 wide alley between these buildings.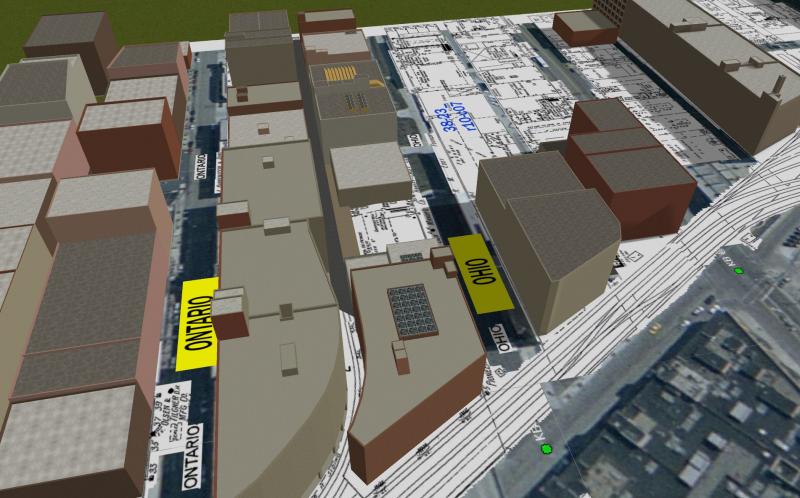 Aerial view from about the same spot as the previous shot.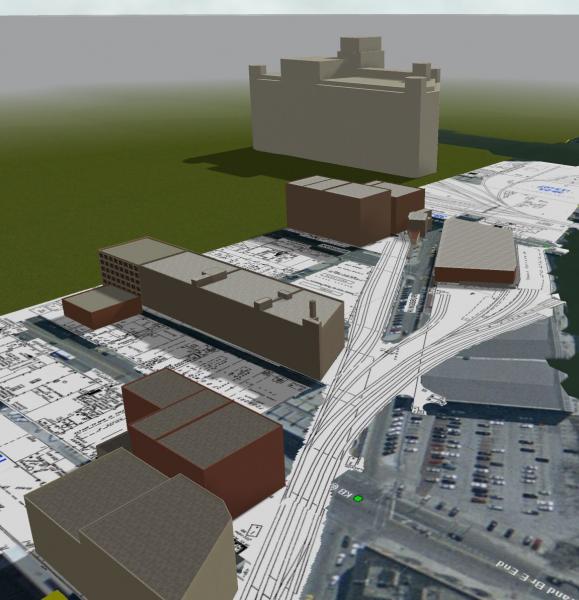 Looking SE to the Merchandise Mart. The Mart was built at the worst of the Great Depression by one of Chicago's leading business families and at the time (and for several decades afterwards) was the largest building in the world as measured by floor space. It's purpose was to lease floor space to all sorts of manufactures of retail goods where they could show off -- and sell -- their product lines to retailers. This years furniture line. This years household appliances. This years automobiles. Anything and everything.
It was built above the CNW tracks that pre-dated it and so there were 4 long spurs in the basement for deliveries as well as a couple of tracks that simply passed thru on their way to businesses further east.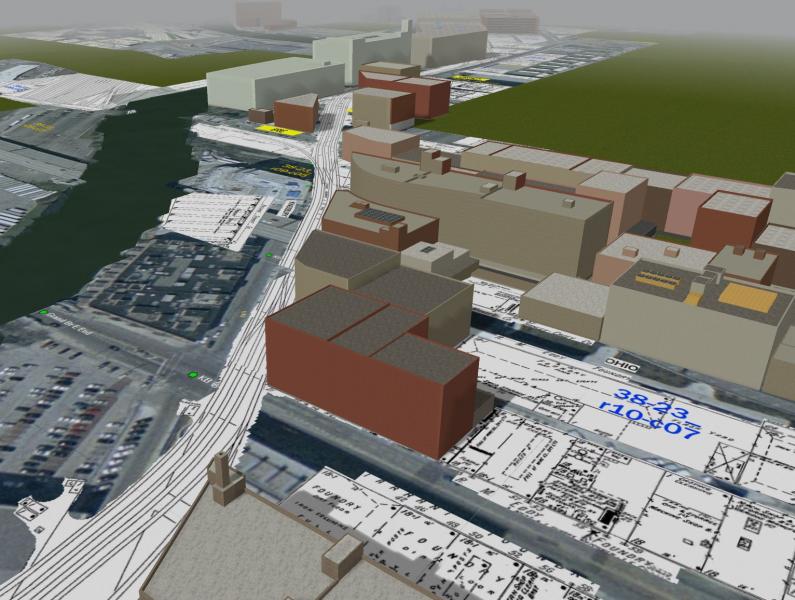 A view looking NW from the top of the Merchandise Mart.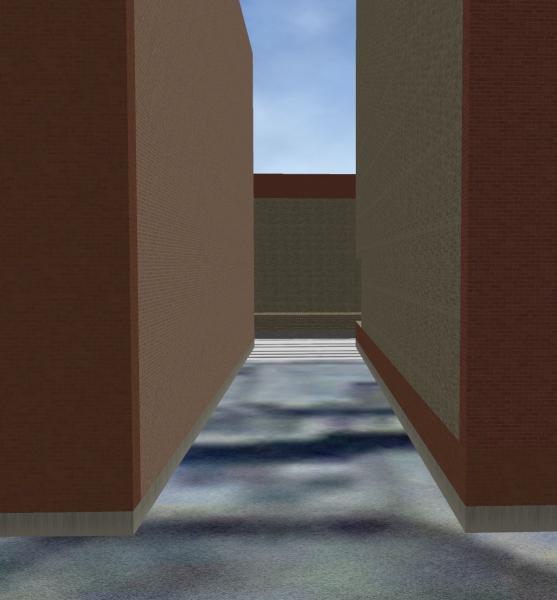 Last shot is about details. I've noticed not too many building models include a foundation. I always add them because I think it looks right and sure helps when the terrain isn't level. Second, I dunno about other cities but one thing I do remember about Chicago is how they'd lay expensive good looking brick facing the street and switch to the cheap, ugly stuff as soon as they could get around a corner (in Chicago it's most often that really dirty looking yellowish-brown brick on the right). The image is just an example of how that looks, something I think is essential for an older city scene.
---
Posted 12 September 2012 - 04:17 AM
Excellent work Dave. :Neeeedsleeep: When this route is complete I think it is going to be truly unique, given the setting. As a lifetime Chicago area resident I am amiliar with the area and would find it really fun to operate trains in such an accurate reproduction of this very dense setting. The buildings with their various shapes and heights all look very good even without any detail. This is a case where an otherwise very dull, flat terrain is going to be really interesting.

As a structural engineer by profession I work with architects that often access Sanborn Maps for historic information related to specific sites. I think creating a route from this information is really cool. :cool3:

Looking forward to further updates.

Best Regards,

Paul G

---
Posted 12 September 2012 - 08:31 AM
All my work on the Cal-P route is from Sanborn maps as well... that's now a several hundred individual buildings built per the Sanborn information. It always goes faster when I can find an image -- if I can see the windows, doors, roof details I can move quickly in Sketchup. If I don't have anything to work from I tend to hold back and consider things and not finding a clear answer set it aside and move on to another. Tends to leave things in a mixed state.
Anyway, I needed a break from the Cal-P and this Goose Island project should be relatively quick (if I keep at it).
Here's something for you:
See brownish-brick in the center of the image, runs down the alley wall...
that
says old Chicago to me. You know how hard it is to make a texture for that??? Multiple variants? I've got one so far that looks almost right. What I'm curious about is how much of the black grunge is just sitting on the brick vs. baked in. Any idea?
---
Posted 12 September 2012 - 09:35 AM
Great stuff Dave! :Neeeedsleeep: And yes, Toronto has many buildings like that as well. For me, I'd say the grunge is 'sitting on it' primarily. I'm sure Chicago get's it's far amount of 'acid rain' and snow/ice, which tends to keep the grime from getting 'baked in'.

---
Posted 12 September 2012 - 10:56 AM
Try
this website
for brick colors, it could help! I used this site when doing some research on some bricks from
one of the museums
that I work at, and I've used it often when comparing brick colors on other structures. It's a neat site, at any rate! :Neeeedsleeep:
---
Posted 12 September 2012 - 03:52 PM
It is very common to see a finished, hard fired, face brick on the front or street faces of buildings in Chicago with side and rear faces being what we would call common brick. The common brick is a kind of salmon color typically but there is certainly variation with some a little darker and some lighter. The source of the clay and the length of time it is fired can affect the color. Occasionally there will be the brick with very dark spots as a result of impurities in the clay. The very dark, almost black color seen across the entire face of a building is the result of pollution. That even affects the color of the face brick but may not be as noticeable due to the often darker color of that brick.

Compared to the face brick used on the main street face of the building common brick is more pourous with a dull finish. As a result of the pourous nature of the surface of the common brick the pollutants are more prone to permeate the brick. In that regard, the pourousity of the surface will vary, hence the variation in color and staining.

It is always a kick to watch a building being restored, having the face brick washed down to remove the pollutant stains. Due to the hard fired surface, the face brick will clean up quite nicely and it's often a pleasant surpise to see the original color and detail that has been hidden by the grime. In some instances after being cleaned you can see that the architectural details of the facade included the use of more than one color of face brick which has been hidden by the grime. We have many old masonry buildings in Chicago that I think are real gems in that regard and it's good to see some of them being restored.

---
---
1 User(s) are reading this topic

0 members, 1 guests, 0 anonymous users