You cannot upload a new file
PE1622-1625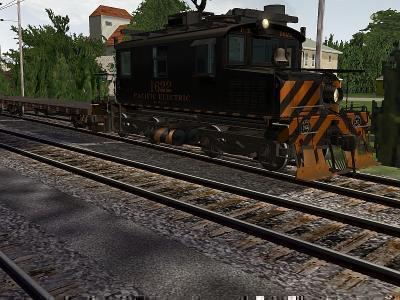 File Name

PE1622-1625 by Tony

Submitted

18 July 2009 - 05:24 AM

Last Updated

20 December 2010 - 02:09 AM

File Size

9.05MB (Estimated Download Times)

Views

2822

Downloads

65

Support Topic
PACIFIC ELECTRIC RAILWAY 64-TON 1622 1625-CLASS FREIGHT LOCOMOTIVE
PE-Llewellyn-GE "Hybrid" - "with a whiff of Baldwin-Westinghouse"
7.2 and 6.2 Meter Wire Heights
3D MODEL AND TEXTURES ©2005, 2008 By Tim Muir
Cabview by Tim Muir and Chuck Zeiler, using elements from Wayne Campbell (Throttle, brakes, sander) Bill Hall (Reverser) and Kenji Kimura (light switch).
Sounds, lighting and physics by Chuck Zeiler.
A Repaint by Anthony D. Cook, July 5 2009.
!!You must have at least Bin Patch v1.7.1022 installed in your MSTS root folder to use this model or you will get engine file errors!!
The #1619 was built in 1924, as first in the 1619-1631 Class. 1628 was built in 1925. These were the last electric locomotives to enter service with the PE. They were patterned closely after the 1601-1618 class, but not built by Baldwin-Westinghouse. The high cost of the 1616 and 1617 in 1921 forced PE management to seek bids elsewhere for the next generation of locos. PE's own shop at Torrance underbid all contenders, with Llewellyn Iron Works in Los Angeles supplying the bodies. Torrance was the principle assembler of the "kits", using General Electric electrical equipment. These locomotives looked like Baldwin-Westinghouse units, but were GE throughout. They were unique to the PE. Total Weight, 127,000 lbs. Traction motors, 4 GE Type 251A 205 horsepower. Controls, GE Type PCL-Single-unit, 600/1200 Volt, Westinghouse 14-EL air brake, K-14 engineer's control valve. Two C-75 dynamotor-air compressors. Average Tractive Effort, 47,000 lb. with traction motor blowers going. Trucks, Cast-Steel Rigid-Bolster 6.5' wheelbase and 5-1/2"x10" journals. Original wheels were 38-1/2" diameter spoked steel-tired, but during World-War 2, were changed over to solid steel 36-1/2" wheels.
PE rated the 1619-Class at 4,620 tons on the Northern District, 4,700 tons on the Southern District, and 4,720 tons on the Western district. This was slightly higher than the 1601-Class, which was rated at 4,420 tons on all districts. The 1619's were equipped with MU equipment taken from 1459-1464 "Portland" boxmotors in 1945, to eleviate the need for steam locomotive helpers.
(Historical Data by Ira Swett's "Interurbans" special #37, "Cars of the Pacific Electric, Vol.III, 1965).
Model built in TSMv1.1© by Abacus®, using plans of a basic "Off -the-Shelf" Baldwin Steeplecab furnished by Chuck Zeiler. Many railroad-specific parts had to be made by eye-ball "guess-timations". I think we have come up with a very plausible virtual model of the originals. Many parts were made using photos from the Pacific Electric "Baldwin patterned" (assembled by PE Torrence Shops) #1624, from Rod Fishburn, furnished by Paul DeVerter. The cabview is made from photos of the 1624's cab. 1624 has been preserved at the Orange Empire Railroad Museum, in Perris, California.
Visit them at:
http://www.oerm.org/
2008 Model rebuilt using TSMPro by Abacus ®. Much new information has come into my possesion since the original model was made in 2005, so some details has been improved, corrected, or added. Also, new animations have been added for the trolley pole, cab doors and windows and bell. See "ANIMATIONS_readme.txt" for instructions for using these.
Installation:
The default HHP and KIHA31 are required to be installed in the default locations for all the sounds to work correctly.
Unzip to a temporary folder. Move contents to ...\Trains\Trainset folder. Build a Consist in a Consist Editor.
LEGAL:
As author of this design, I advise that it is copyrighted, but royalty free. You may use it and edit it as you wish, but you may not distribute it for money, or include it in a paid distribution without permission from Tim Muir, who can be reached via personal message at Elvas Tower
http://www.elvastower.com/forums/
. You must include my name in your credits, as well as my copyright notices, and this entire Readme.txt, if you repaint it, use or derive files from it, or otherwise use or distribute these files.
Because this program is royalty free, it is provided WHERE IS, AS IS, WITH ALL FAULTS, and WITHOUT WARRANTIES OF MERCHANTABILITY or FITNESS FOR A PARTICULAR PURPOSE or any other warranties. There is no liability by the authors in your use of this program, instead all liability is assumed by the user.
Credits:
Paul DeVerter for supplying Rod Fishburn's photos of PE 1624 at Orange Empire Rail Museum for many details.
Chuck Zeiler, for the many Baldwin's photos and the plans. And his help with all the editing of the engine files, sounds, lighting and help with the Cabview, not to mention his patience.
Herb Kelsey for lighting the fire under me for animating the bell, something I've wanted to do for awhile.
Thanks, all.
Tim Muir
4-26-05
10-20-08
Railroad Earth Models
Repainted By Anthony D. Cook from a PE picture suplied by Tim Muir.
Thanks Tim For all Your fine MSTS Models. You make MSTS fun Our friend.
Original File Name = PE1622_1625.rar

Download File
You cannot upload a new file
Random Files
Download Statistics
Total Files

2,498

Total Categories

129

Total Authors

143

Total Downloads

101,052

Latest File:

B&O 4-4-0 No.270 Mason by timmuir (submitted Yesterday, 08:47 PM)
10 user(s) active in the past 15 minutes

10 guests, 0 Anonymous Users