You cannot upload a new file
CPR 40 foot grain boxcars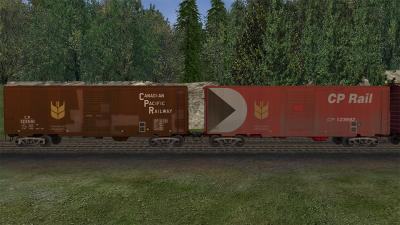 File Name

CPR 40 foot grain boxcars by Elmo313

Submitted

11 November 2021 - 05:34 PM

Last Updated

11 November 2021 - 05:34 PM

File Size

1.11MB (Estimated Download Times)

Views

303

Downloads

27

Support Topic
CP 40 foot Grain Boxcars for Open Rails only.

Boxcars were the freight car of choice for grain transportation from the early 1900's until they were replaced by gravity-discharge aluminum and steel covered hoppers beginning in the 1970's. Grain boxcar fleets declined through attrition, and it was the railways' intention after 1986 to use them only on branchlines unable to accommodate covered hoppers.

In 1981, the number of railway boxcars and government covered hoppers in dedicated grain service were at a break-even point, at about 13,000 each. The Grain Transportation Agency in that year predicted a decrease of 164 boxcars per month, due to attrition. In the GTA study, the actual attrition rate was closer to 200.

As it was cheaper and easier for the railways to repair boxcars for use on lightweight branchlines, than to upgrade the branchline infrastructure, major rehabilitation programs were undertaken by the railways, and at the expense of the federal government and the railways, produced 2,000 cars in 1974, 3,000 in 1979 and 2,000 in 1980. The last of the rebuilt grain boxcars were retired and scrapped in 1996. (Source: Trackside Treasure: Canada's Grain Fleet - Boxcars)

Repaints of NAVS 40-Foot PS-Type boxcar as CP Rail 123692 and CPR 123541. Reqiures NAVS_Boxcar_40_PS-Type.zip (Elvas Tower or Trainsim) and navsfr10.zip (Trainsim).

Download File
Random Files
11 user(s) active in the past 15 minutes

11 guests, 0 Anonymous Users