You cannot upload a new file
Rokketts Version 1.0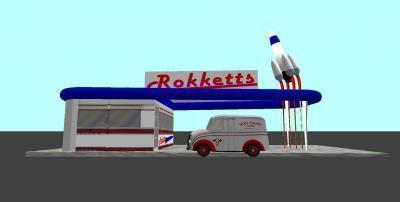 File Name

Rokketts Version 1.0 by Frank Musick

Submitted

11 November 2021 - 02:01 PM

Last Updated

11 November 2021 - 02:01 PM

File Size

1.86MB (Estimated Download Times)

Views

158

Downloads

15

Support Topic
Rokketts Version 1.0
MSTS/Open Rails Scenery Object
November 11th, 2021
Original model by Frank Musick
Textures by Frank Musick
Rokketts Drive-In was originally conceived for my N scale model railroad, the Average Eastern. It was on the outskirts of Owertown just before the grade crossing on Owertown Road.
https://i.pinimg.com...ad970e22dad.jpg
The layout was built, but never completed so I never got a chance to build Rokketts in N scale. It ocurred to me that I could build the place in V-Scale, and this is the result. The parking lot is not full of teenagers', hot rods and motorcycles as I envisioned it, but maybe I'll create some at some point. In the meantime I'm sure there's a bunch of stuff out there in libraries.
I included a 1938 Divco milk truck just for fun. The Divco is also available separately in the Vehicles section.

Download File
You cannot upload a new file
Random Files
6 user(s) active in the past 15 minutes

6 guests, 0 Anonymous Users