You cannot upload a new file
1837 Willys Coupe Version 1.0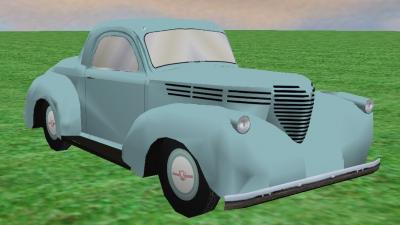 File Name

1837 Willys Coupe Version 1.0 by Frank Musick

Submitted

18 October 2021 - 11:37 AM

Last Updated

18 October 2021 - 11:37 AM

File Size

505.92K (Estimated Download Times)

Views

539

Downloads

29

Support Topic
1937 Willys Coupe Version 1.0
October18th, 2021
Original 1941 Willys model by Louis Fournier, modified and adapted for MSTS and Open Rails by Frank Musick
Textures manipulated from photographs obtained on the internet by Frank Musick

Another complete overhaul of a Fournier shape. Once again the poly shapes themselves were very complex. A lot of merged points and new faces required, but was able to maintain the general shape. The model was originally a 1941 Willys with the vertical nose, but I backdated it to 1937.The 1941's are the basis were a lot of gasser race cars and very common. To me the earlier models are more interesting.

I wish my models could be "smooother", but it's the underlying polygons that dictate the shape. The smoothness is a function of the shader. It appears smooth by a trick of the software. To get a smoother look would require more polygons than MSTS can handle and still give some level of performance. OR might be able to deal with the load, but I feel a street full of such shapes would still affect the operation of the sim. It's a compromise. Realistic high crown curves or reasonable frame rates. "Ce la vie" as the French (and some Canadians) might say.

Anyway, hope this model is of some use.

Download File
You cannot upload a new file
Random Files
Download Statistics
Total Files

2,526

Total Categories

129

Total Authors

145

Total Downloads

103,432

Latest File:

2 1940's Commercial Buildings by timmuir (submitted Yesterday, 11:41 AM)
6 user(s) active in the past 15 minutes

6 guests, 0 Anonymous Users