You cannot upload a new file
1937 Lincoln Zephyr Version 1.1 (Reduced call count)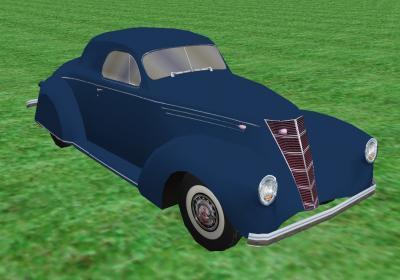 File Name

1937 Lincoln Zephyr Version 1.1 (Reduced call count) by Frank Musick

Submitted

27 September 2021 - 12:48 PM

Last Updated

09 November 2021 - 01:18 AM

File Size

1.07MB (Estimated Download Times)

Views

152

Downloads

23

Support Topic
1937 Lincoln Zephyr Version 1.1 (Reduced call count)
MSTS Scenery Object
November 9th, 2021
Original model by Louis Fournier, modified and adapted for MSTS and Open Rails by Frank Musick
Textures manipulated from photographs obtained on the internet by Frank Musick.

The first version of the Lincoln Zephyr appeared in late 1935 for the 1936 model year. Standard features included a locking glove box, but a radio was optional. Its elegant streamlined form and V12 engine promised speed. The car was successful, 15,000 units were sold the first year.. The car changed the company fortunes. 80% of the Lincolns sold in 1936 were Zephyr models. Production of the Zephyr was interrupted in 1942 when World War II saw American car makers join the war effort. When the manufacturers resumed full auto production after the war, the Zephyr nameplate was not revived.


Download File
You cannot upload a new file
Random Files
Download Statistics
Total Files

2,447

Total Categories

128

Total Authors

141

Total Downloads

94,889

Latest File:

CN 50 Foot Boxcars by Elmo313 (submitted Yesterday, 11:45 AM)
8 user(s) active in the past 15 minutes

8 guests, 0 Anonymous Users