You cannot upload a new file
MSTS/OR Richmond Staples Mill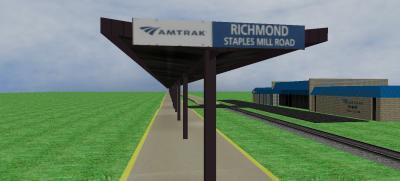 File Name

MSTS/OR Richmond Staples Mill by captain82

Submitted

08 September 2019 - 04:17 PM

Last Updated

08 September 2019 - 04:17 PM

File Size

1.94MB (Estimated Download Times)

Views

782

Downloads

14

Support Topic
MSTS/OR Staples Mill Station
by Cory Duguid (Captain82)

One of Virginia's busiest rail stations, Amtrak's Staples Mill station sevices almost all east coast trains. The station was
built in 1975 as a replacement for Main Street Station in downtown Richmond, which had been heavily damaged by flooding
from Hurricane Agnes.


Questions or comments, I can be reached through PM through the forums, Facebook/Instagram, or email duguid1982@gmail.com
Thank You!

Download File
You cannot upload a new file
Random Files
10 user(s) active in the past 15 minutes

10 guests, 0 Anonymous Users