You cannot upload a new file
Central Vermont SW1200s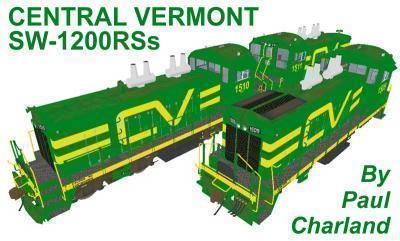 File Name

Central Vermont SW1200s by charland

Submitted

26 December 2017 - 09:50 AM

Last Updated

26 December 2017 - 09:50 AM

File Size

9.92MB (Estimated Download Times)

Views

1173

Downloads

51

Support Topic
MSTS/OR Central Vermont SW-1200s

Three EMD SW1200s were built for the Grand Trunk Western in 1957 and 1960 that were transferred to the Central Vermont in 1953. In 1981 they were repainted into the new Larson Green paint scheme.

CV_SWs is a set of Paul Charland models created in TS Modeler. Models features Tim Muir couplers and air hoses along with wheel and spring textures.

Download File
You cannot upload a new file
Random Files
Download Statistics
Total Files

2,606

Total Categories

130

Total Authors

145

Total Downloads

106,903

Latest File:

OR SP_TR6A_B by charland (submitted Today, 03:02 PM)
14 user(s) active in the past 15 minutes

14 guests, 0 Anonymous Users