You cannot upload a new file
K-36/K-37 Tender Brake Fix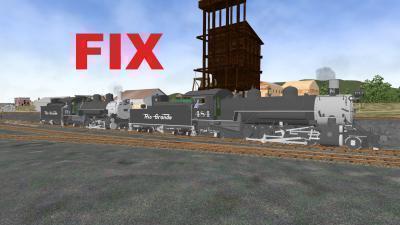 File Name

K-36/K-37 Tender Brake Fix by atsf37l

Submitted

22 September 2017 - 10:34 AM

Last Updated

22 September 2017 - 10:34 AM

File Size

7.5K (Estimated Download Times)

Views

1381

Downloads

57

Support Topic
Tender Fix for D&RGW K-36 and K-37 Locomotives.

Somehow an extra bracket (parenthesis open) got inserted into the wagon files for the tenders of K-36s 484, 487 and 489 and K-37s 491 and 492. The effect of this bracket is to disable the brakes on these cars.

While this had little or no effect with MSTS, we now have the ability in ORTS to change from running one train or locomotive to running another train or locomotive that is not connected to our original train. Think: Change from road engine on the main to a helper on a siding. But in order to make the swap, all locomotives and cars in the operating train must be zero MPH (KPH). A car without brakes never really stops moving so the attempt to swap with brakeless tenders always fails.

The attached wagon files have been corrected and will fix this error. Simply copy the TRAINS folder to your simulator folder and accept the overwrites.

Now you should be able to jump from one cab to another without errors. Just be sure to set all brakes.

Download File
You cannot upload a new file
Random Files
Download Statistics
Total Files

2,513

Total Categories

129

Total Authors

143

Total Downloads

102,157

Latest File:

ONR_TEE_Trains by charland (submitted 26 June 2022 - 03:27 PM)
9 user(s) active in the past 15 minutes

9 guests, 0 Anonymous Users