You cannot upload a new file
Milwaukee Road E39 EF-5 Coast Div. Version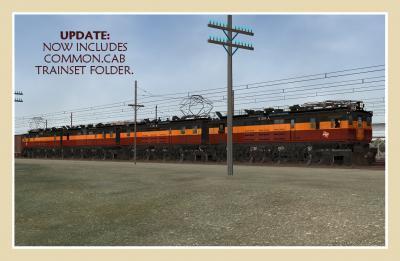 File Name

Milwaukee Road E39 EF-5 Coast Div. Version by timmuir

Submitted

07 May 2017 - 10:28 AM

Last Updated

19 October 2018 - 10:40 AM

File Size

9.92MB (Estimated Download Times)

Views

1014

Downloads

127

Support Topic
General Electric Box Cab E39 EF-5, the prototype four-unit set built and modified from various EF's for the CMStP&P Coast Division. It migrated east to the RMD after the Coast Division electrification was scrapped.
This is a model I started many years ago, around 2006. It's been through many tweaks and adjustments right up to 2010. The shape files have been lost so this is it as far as the shape goes. It has some nice bin features in the pantograph animations. You have four choices for the three pans (on E39-A, D and

: Pans down; pantograph up on E39-A only(P); Pans up on E39D and B only (Shift+P); all pans up (P, then Shift+P).
The E39s work well in MSTS and it's my favorite set of EF's to run in that platform. HOWEVER, in Open Rails, there is a problem with the wheel rotation. Most of the drivers do not rotate at the right speed, only E39D's front drivers; E39C's front drivers and E39B's rear drivers correctly rotate. I have looked into each shape file and checked for animation speeds and they all match with a setting of 16 30. The models are a complex collection of parts and freight anim shapes. Each truck is it's own shape with a wag file. Each pair of trucks has the corresponding body set between them in a consist builder. All the trucks are contained in this archive, so no need to have the E29 set for those. This was mainly because the E39's trucks are unique to the locomotive.
So, I am offering this set as a beta because of the issue with OR and also because I wont be making any more changes to the shapes. It is what it is. I'm hoping that it is a purely Open Rails issue between the rotations on the affected trucks, whether it's something to do with the articulation, or what.
The model was constructed in Train Sim Modeler Pro. There are many polygons, but it runs smoothly in MSTS. This loco is built in sections, whereas the trucks are seperate models and typed as wagons, each with bogies and mains as with any car. The carbodies are the engines which are sized to 0.10 meters in length so that they couple between the trucks using bar couplings with no visible gap. It's a tight arrangement and operates very smoothly over rough track.
It requires Bin and MILW_EF-2 Common folders
that must be in your Trainset Folder in order to operate
these and subsequent models (efcomsnd.zip and efcomcab.zip-
Available in Train-Sim.com and Elvas Tower.com libraries).
Model and textures by Tim Muir.
Coupler physics from Joe Morris.
Sounds edited by Lukas Lusser and Chuck Zeiler.
Locomotive physics by Lukas Lusser and Chuck Zeiler.

Download File
You cannot upload a new file
Random Files
Download Statistics
Total Files

2,175

Total Categories

111

Total Authors

128

Total Downloads

65,701

Latest File:

Whistle Megapack by Fedegamer (submitted 23 March 2019 - 07:12 AM)
10 user(s) active in the past 15 minutes

10 guests, 0 Anonymous Users