You cannot upload a new file
Basic Double Track Tunnel Portal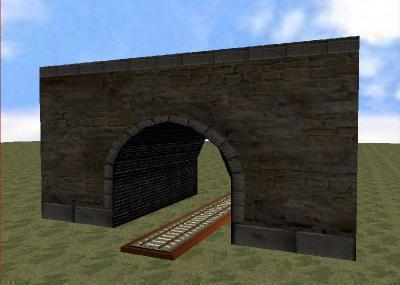 File Name

Basic Double Track Tunnel Portal by espee

Submitted

02 May 2017 - 01:54 AM

Last Updated

02 May 2017 - 01:54 AM

File Size

635.13K (Estimated Download Times)

Views

655

Downloads

11

Support Topic
Here are source files for a double track tunnel portal. The inside of the tunnel (or liner) profile matches that of the default Kuju tunnel with turrets shape.
Some knowledge of a 3D modeling software is required to use these files...
The rest is a basic box that you can build on by adding wing walls, turrets or castellations and/or manipulate it in any way you wish.
As this shape file is based on an original Kuju/MSTS shape file it has minimal polys, you can of course increase the poly count for OR use to make the tunnel liner more rounder while still maintaining the basic profile.
The model has been texture mapped to the default US1TunnelEnt.ACE file and a tga version has been included but you can change the texture as required.
The zip file contains source files in the following formats:
DST - Trainsim Modeler

3DC - 3D Canvas/Crafter

3DS

OBJ

Blend - Blender
Use these files any way you wish, no attribution is requested or required.
The US1TunnelEnt texture is copyright to Kuju I guess, everything is all my own work
Richard.A.Percy
5/2017

Download File
You cannot upload a new file
Random Files
Download Statistics
Total Files

2,321

Total Categories

121

Total Authors

136

Total Downloads

84,128

Latest File:

MSTS / ORTS Lights Tutorial by slipperman (submitted Yesterday, 03:08 AM)
9 user(s) active in the past 15 minutes

9 guests, 0 Anonymous Users