You cannot upload a new file
Inspection Car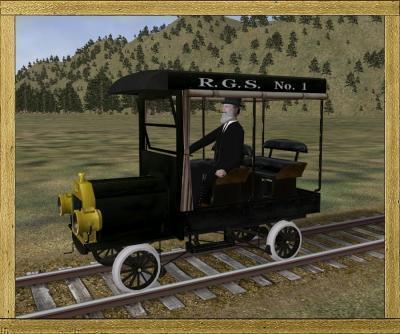 File Name

Inspection Car by thegrindre

Submitted

18 September 2016 - 10:26 PM

Last Updated

12 September 2017 - 08:56 AM

File Size

4.69MB (Estimated Download Times)

Views

582

Downloads

29

Support Topic
This model replicates the very first motor car the Rio Grande Southern Railroad (RGS) ever put on the rails. It was custom build for W. D. Lee and constructed from a 1913 Model T Ford and was called an Inspection Car.
The driver is me, thanks to Sandy River Tom for his additional work on this addition.
The sound files are all real model T Ford sounds that I've acquired from the Internet. It has night cab views but, back in those days, there were no interior lights so, they're dark. LOL
Thanks to hiball3985, he give the headlight's glow a dull yellowish hue depicting oil burning lamps.
There's an additional Tool Wagon to play with if you want to unzip that straight into your TRAINSET folder as well.
I left it empty. You may add your own 'junk' to it with a FreightAnim if you wish.
Have fun and enjoy!


Download File
You cannot upload a new file
Random Files
2 user(s) active in the past 15 minutes

1 guests, 0 Anonymous Users