You cannot upload a new file
C&S Bridge #52 Fix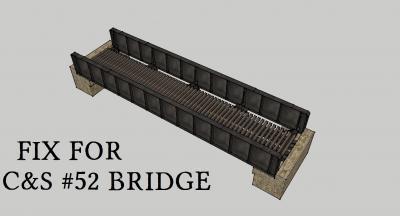 File Name

C&S Bridge #52 Fix by rt35ge

Submitted

30 May 2016 - 05:36 PM

Last Updated

30 May 2016 - 05:36 PM

File Size

1.25MB (Estimated Download Times)

Views

563

Downloads

35

Support Topic
C&S #52 Bridge fix.

**** This is a fix for the bridge. Correction made so model will run in MSTS an Open Rails no. Original was suggested for the OR platform only. Also, the point of origin (axes of model) has been corrected to make placement easier. Special thanks to Elvas Tower member "Jovet" for his observations on the model so I could make corrections---Brian, May 29 2016****

****** Original model is required for this fix to work.****




Made in Sketchup 8.

May 2016
By Jerome Cress
Brian Kistner

rt35ge@gmail.com
bkkistner7@hotmail.com

How to install:

1. Unzip the file folder.

2. Copy the shape file and overwrite when asked. The textures and REF remain the same.

This model is freeware and MAY NOT be used for commercial ventures.

Repainting is permitted. PLEASE credit the authors if repaint is uploaded. The layout of the ACE files is different than the typical format to make repainting easier on the user.

Download File
You cannot upload a new file
Random Files
19 user(s) active in the past 15 minutes

19 guests, 0 Anonymous Users