You cannot upload a new file
C&S Turn Table Bridge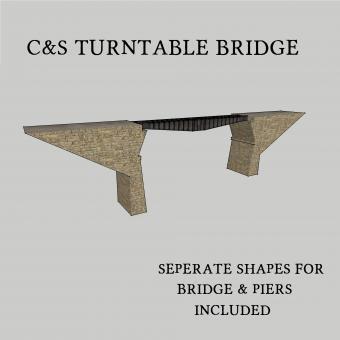 File Name

C&S Turn Table Bridge by rt35ge

Submitted

22 March 2016 - 11:33 PM

Last Updated

22 March 2016 - 11:33 PM

File Size

5.27MB (Estimated Download Times)

Views

604

Downloads

29

Support Topic
C&S Turntable Bridge. One of many bridges located along the Colorado & Southern (C&S) railroad located in Colorado.
Information for the model gathered from Clear Creek Model Engineering, Inc. Turntable Bridge NO. 52.47 Drawing No. 11. Also information gathered from "Colorado Central Railroad Golden, Central City, Georgetown," by Abbott, Mccoy, and MCleod page 377.
This model is a best guess and if we missed something about this model please share with us.


****NOTE!!!**** Model has been tested in both MSTS and Open Rails. Some users may experience texture issues if run in MSTS with settings above default. Further tests have also showed some models behave differently pending on MSTS settings. For best results using MSTS only, settings may require further adjustment. There are no issues when Open Rails is used. We suggest (BUT NOT REQUIRED) using Open Rails for best results.

Multiple Source models included.


Made in Sketchup 8.

March 2016
By Jerome Cress
Brian Kistner

rt35ge@gmail.com
bkkistner7@hotmail.com

How to install:

1. Unzip the file folder.

2. Copy the shapes folder and the textures folder into the route of your choice.

3. Copy the REF doc into the routes REF file. Model's class is "Sketchup".

This model is freeware and MAY NOT be used for commercial ventures.

Repainting is permitted. PLEASE credit the authors if repaint is uploaded. The layout of the ACE files is different than the typical format to make repainting easier on the user.

Download File
You cannot upload a new file
Random Files
14 user(s) active in the past 15 minutes

14 guests, 0 Anonymous Users