You cannot upload a new file
APKExtractor3 - a replacement for TSUnpack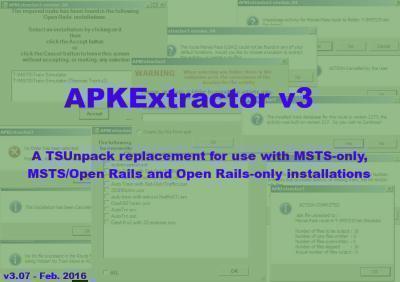 File Name

APKExtractor3 - a replacement for TSUnpack by slipperman

Submitted

04 July 2015 - 09:12 AM

Last Updated

01 March 2016 - 08:03 AM

File Size

1.13MB (Estimated Download Times)

Views

4430

Downloads

160

Support Topic
MSTS / ORTS - APKExtractor (a TSUnpack replacement)
==========================================
A utility which will unpack MSTS .apk files to the default MSTS installation, to any installation included in ORTS profiles, or to any specified folder. A zip file creation function is also included.
Unpack the zip file into a temporary folder and run the installer found there-in. The name of the executable and of the default installation folder are the same as for the previous version.
*** NOTE : It is recommended that the previous version is NOT uninstalled and that this version is installed into the same folder, otherwise it will be necessary to re-associate .apk files with this version of APKExtractor3.exe
Full instructions are contained in file APKExtractor_v3_ReadMe.rtf, which can be found in the installation folder selected when running the installer (default is C:\MSTS APK Extractor v3).
Many thanks to Alec, Andy, David, Mark, Mike (rufuskins, cougar25, dforrest, markpullinger, jessie1940 of UKTS Forum respectively) and Bob (Bob Latimer of TSSH Forum) for their help and suggestions in the testing of the previous version of this program.
Although this software has been tested, and is not likely to cause any problems to the PC on which it's installed, or the data contained there-on, there is no warranty to that effect. The user takes full responsibility for its deployment on their equipment.
For any trouble running this program, or enhancement suggestions, please contact me, slipperman12, on the MSTS or ORTS Forum at either UKTS (
http://forums.uktrainsim.com/index.php
) or TSSH (
http://tsforum.freeclanforum.com/
), or slipperman on the Forum at trainsim.com.
Covered by the GNU Public License, this is my modified and enhanced version of the original program by Jay Herman.
C# source files are included in a separate zip file, which may be ignored without ill-effect.
**** Version 3.07 February 2016. Check for invalid/corrupt apk files added.

Download File
You cannot upload a new file
Random Files
Download Statistics
Total Files

2,282

Total Categories

114

Total Authors

133

Total Downloads

80,566

Latest File:

Great Northern fWestern Star by motor1 (submitted Yesterday, 01:08 PM)
2 user(s) active in the past 15 minutes

2 guests, 0 Anonymous Users