You cannot upload a new file
33' twin Hopper for eastern anthracite coal mining roads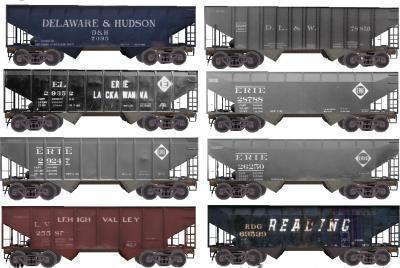 File Name

33' twin Hopper for eastern anthracite coal mining roads by conductorchris

Submitted

11 May 2015 - 01:16 PM

Last Updated

02 April 2016 - 07:01 AM

File Size

16.7MB (Estimated Download Times)

Views

1358

Downloads

137

Support Topic
Two bay 33' hopper cars
Photoskinned with photos taken c.1972 by Chuck Bohi and from builders photos
Some cars feature ACI labels which appeared after 1967. These cars survived into the first years of the 1980's.
All these cars are from railroads that loaded bituminous coal ("steam coal") used for power plants and factories. These cars could be found throughout the northeast and beyond.
Included:
D&H Delaware & Hudson
DL&W Delaware, Lackawana & Western
ERIE Erie (w)
EL Erie-Lackawana
LV Lehigh Valley
RDG Reading
These hopper cars use Dick Cowen's model.
If you want an older and more detailed assortment of hoppers, I commend to you the BLWZT 1950's freight pack (part of the PRR4 set).
It contains hoppers from assortment of railroads and many
PRR hoppers, which were all over the east on connecting railroads. All circa 1947.
It's available at
http://www.valleypas.../Sales/PRR4.htm
I hope you enjoy it!

Download File
You cannot upload a new file
Random Files
Download Statistics
Total Files

2,315

Total Categories

121

Total Authors

136

Total Downloads

83,181

Latest File:

Mid-50s Trucks by charland (submitted 16 October 2020 - 04:36 AM)
6 user(s) active in the past 15 minutes

6 guests, 0 Anonymous Users