You cannot upload a new file
Hoppers for eastern Bitumnious coal mining roads c,1926-1982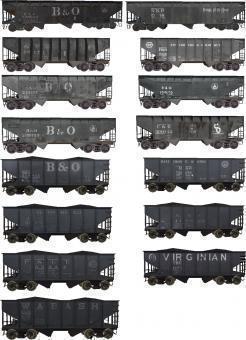 File Name

Hoppers for eastern Bitumnious coal mining roads c,1926-1982 by conductorchris

Submitted

11 May 2015 - 12:22 PM

Last Updated

02 April 2016 - 07:02 AM

File Size

77.12MB (Estimated Download Times)

Views

1300

Downloads

197

Support Topic
This set covers railroads of the east that mined bituminous steam coal used in power plants and factories.
While most coal dealers received anthracite coal (from railroads serving Pennsylvania), some dealers also carried bituminous coal for industries that used smaller quantities.
Included:
B&O Baltimore & Ohio (6) ..........2 USRA, 3 twin offset, 1 triple offset
C&O Chesapeake & Ohio ............ twin offset
CRR Clinchfield .................. USRA
NKP Nickle Plate ................. triple offset
NYC New York Central ..............USRA, 33' rib (rebuilt former offset)
P&LE Pittsburg & Lake Erie (NYC) .. USRA Panel rebuild
VGN Virginian .................... USRA
WAB Wabash ....................... USRA panel rebuild
Three models are used: Scott Brunner's new excellent USRA two bay hopper, representing cars built around world war one and into the twenties; Dick Cowen's 2 bay model, representing cars built in the twenties through early fifties; and Paul Charland's 3 bay offset hopper, of similar vintage. These cars lasted into the seventies.
Three of the USRA hoppers cars represent rebuilds using protruding panels to increase capacity, a modification popular in the 1930's, but later found to be vulnerable to rust damage. One is a little shorter, representing an early, smaller predecessor.
Photoskins from photos at boxcars.com or c.1972 by Chuck Bohi. Cars photographed by Chuck in 1972 were old then, but featured ACI labels that appeared after 1967. These cars lasted in the first years of the 1980's.
This car is meant as a companion to the BLWZT 1950's freight pack or the BLWZT Pennsylvania Railroad set 4, which you should have if you
are interested in period hopper cars -- it contains hoppers from assortment of railroads and many
PRR hoppers, which were all over the east on connecting railroads. All circa 1947.
It's available at
http://www.valleypas.../Sales/PRR4.htm

Download File
You cannot upload a new file
Random Files
Download Statistics
Total Files

2,321

Total Categories

121

Total Authors

136

Total Downloads

84,128

Latest File:

MSTS / ORTS Lights Tutorial by slipperman (submitted Yesterday, 03:08 AM)
4 user(s) active in the past 15 minutes

4 guests, 0 Anonymous Users