You cannot upload a new file
FIXED: USRA twin Hopper for eastern anthracite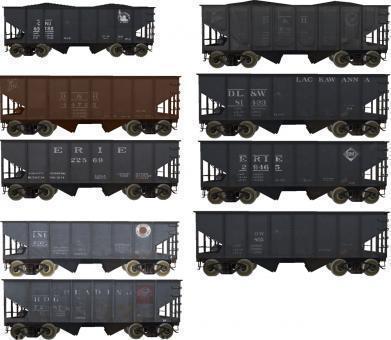 File Name

FIXED: USRA twin Hopper for eastern anthracite by conductorchris

Submitted

14 April 2015 - 05:48 AM

Last Updated

02 April 2016 - 07:03 AM

File Size

17.36MB (Estimated Download Times)

Views

1313

Downloads

124

Support Topic
Update, March 2nd: This file represents a fixed version of this set, with .wag and .sd file corrections. save over the top of previous version unless you have made changes in the earlier .wag files.
Thanks to Bob Edwards for identifying issues and supplying some corrections.
----
Built at the end of world war two and into the twenties, these cars lasted into the seventies.
This set covers railroads of the east that mined anthracite steam coal used in home heating, distrubted by coal dealers and for export.
Included:
CNJ Central New Jersey
D&H Delaware & Hudson (2)
DL&W Delaware, Lackawnna & Western
Erie (2)
LNE Lehigh & New England
OW New York, Ontario & Western
RDG Reading
This car is meant as a companion to the BLWZT 1950's freight pack or the BLWZT Pennsylvania Railroad set 4, which you should have if you
are interested in period hopper cars -- it contains hoppers from assortment of railroads and many
PRR hoppers, which were all over the east on connecting railroads. All circa 1947.
It's available at
http://www.valleypas.../Sales/PRR4.htm
The excellent model and base textures are by Scott Brunner.

Download File
You cannot upload a new file
Random Files
Download Statistics
Total Files

2,321

Total Categories

121

Total Authors

136

Total Downloads

84,128

Latest File:

MSTS / ORTS Lights Tutorial by slipperman (submitted Yesterday, 03:08 AM)
8 user(s) active in the past 15 minutes

8 guests, 0 Anonymous Users