You cannot upload a new file
Cuesta Grade V2.0 (Part D)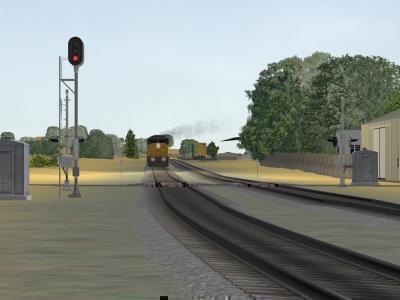 File Name

Cuesta Grade V2.0 (Part D) by That Genset Foamer

Submitted

07 November 2014 - 02:15 PM

Last Updated

08 November 2014 - 10:39 AM

File Size

53.24MB (Estimated Download Times)

Views

2464

Downloads

203

Support Topic
Union Pacific's Coast Subdivision, between San Luis Obispo and Santa Margarita, CA. Modeled in present day, but suitable for any era give or take some details.
You must download all 5 parts and the most recent build of Scalerail and Scaleroad from 3dtrains.com for this route to work and several equipment packs for the demo activity.
Other needed Parts:
Part A
Part B
Part C
Part E
Specifications:
Length: 17 track-miles
Controlled Sidings: 4
Signaling: CTC, Weak Routing.
Signal types: Searchlights, Stacked Colorlights
Tunnels: 5
Longest: 1 mile
Topographical: 5
Mitigation / Grade Separation: 0
Bridges: 6
Longest: 280 meters
Topographical: 2
Mitigation / Grade Separation: 3
Grade Crossings: 6
Overcrossings: 2
Business Tracks: 4
Operations: Helper, Unit Oil / Empties, Autoracks, Passenger, Local Freight
Railroads: Union Pacifc, Amtrak

Download File
You cannot upload a new file
Random Files
7 user(s) active in the past 15 minutes

7 guests, 0 Anonymous Users