You cannot upload a new file
Polson-Rayonier Logging 2-8-0 #51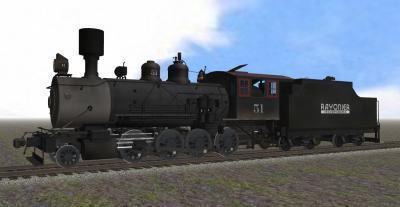 File Name

Polson-Rayonier Logging 2-8-0 #51 by timmuir

Submitted

25 July 2014 - 08:27 PM

Last Updated

25 July 2014 - 08:27 PM

File Size

14.13MB (Estimated Download Times)

Views

3310

Downloads

72

Support Topic
MSTS Polson (Rayonier) #51.
Lettered for Rayonier Fictional Scheme
As-Is...

NP #488 (Baldwin, 11/1889) renumbered to #51 was traded to Polson Lumber Co. for the little ex-NP 0-4-0 Minnetonka in March of 1933. Polson was sold to Rayonier and the 51 was soon after scrapped, never carrying the new company's name. So this is a fiction, a "what-if" paint job. If the purist wishes to have a Polson version, the Rayonier logo can be shut off and a new bitmap with no lettering can be made upon request (photo suggests no name was applied).

Download File
You cannot upload a new file
Random Files
14 user(s) active in the past 15 minutes

14 guests, 0 Anonymous Users