You cannot upload a new file
MSTS Western Pacific Consolidation #22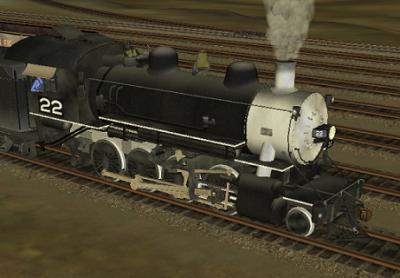 File Name

MSTS Western Pacific Consolidation #22 by midneguy

Submitted

18 March 2012 - 12:56 PM

Last Updated

18 March 2012 - 12:56 PM

File Size

26.71MB (Estimated Download Times)

Views

2031

Downloads

35

Support Topic
MSTS WESTERN PACIFIC ALCO BUILT CONSOLIDATION #22 AND TENDER
ENGINES PROVIDED IN 3 TYPES - PLAYER DRIVEABLE, HELPER (DOUBLE HEAD OR PUSHER SERVICE), AND AI
This model has been constructed to represent how this engine would have appeared in the 1930's and 1940's.
The following historical and technical information is derived from the books "Steam Locomotives of the Western Pacific" by Stephen M. Hayes, 2010, and "Western Pacific Steam Locomotives, Passenger Trains, and Cars" by Guy L. Dunscomb and Fred A. Stindt, 1980:
Western Pacific #22 - The Western Pacific purchased 45 C-43 Class Consolidations from Alco-Schenectady in 1909. As with the Baldwin Consolidations, they were originally saturated steam and slide valve equipped. Most were converted to superheat and piston valves from 1923 to 1933. All of the Alco Consolidations were retired by April 1953, and #26 is preserved today at the Travel Town Museum in Los Angeles, CA.
Specificaions:
Type: 2-8-0 Consolidation Wheel Arrangement
Boiler: 200 psi, oil burning
Cylinder Bore and Stroke: 22" x 30"
Valve Gear: Walschaerts
Driving Wheels: 57" Diameter
Locomotive Length: ~40' 10"
Locomotive Weight Loaded: 203,000 lbs.
Weight on Drivers: 184,000 lbs.
Tractive Effort: 43,300 lbs.
*****************************************************************************************
MODELING INFORMATION:
Locomotive and Tender models created in 3DCrafter Professional Edition, Version 9.1.1 (Build 1256). Post Processing of shape file performed with Shapefixer File Version 0.1.0.39 by Paul Gausden. Textures created using MS Paint and Photoshop Elements 6.0, and converted to .ace format by TGATool2A by Scott Miller.
NOTE: With the exception of numbering, these models were not designed with re-texturing in mind so repaints will be difficult if not impossible to accomplish. Renumbering may be accomplished by editing the file WP22nums.ace .
*****************************************************************************************
INSTALLATION:
YOU MUST HAVE BIN INSTALLED FOR THESE MODELS AND THEIR LIGHTS TO WORK CORRECTLY. BIN IS ALSO REQUIRED FOR CAB SWITCHING BETWEEN PLAYER AND HELPER LOCOMOTIVES. All files needed to run this engine are included, no additional downloads are required.
Unzip WP22.zip to a temporary folder.
Move contents to ..\Train Simulator\ folder
Accept write overs if prompted, which will place a single engine consist in the Consists folder and
the locomotive folder in the Trainset folder
NOTES ON BUILDING CONSISTS WITH THE DIFFERENT ENGINE FILE TYPES SUPPLIED:
Included in this release are 3 types of locomotives to be used depending on their use as the lead or single engine in a consist, helper / pusher in a consist, or on an AI train. The sound files have been configured to achieve correct engine sounds for the locomotives in each of these cases, as long as the correct .eng file is used. The .eng files to use for these different applications is as follows:
Lead / single engine in Player consist: WP22.eng and WPTend22.wag
Trailing Helper or Pusher in Player consist: WP22Help.eng and WPTend22.wag
AI consist in any position: WP22AI.eng and WPTend22.wag
EXTRAS:
In the installed "WP22" folder you will find another folder called "EXTRAS". This folder contains additional .eng files that have the classification lights turned off to simulate running regularly scheduled trains. Simply copy the .eng files to the main "WP22" folder, and add them to any consist you wish with a consist editor.
ALTERNATE SOUNDS AVAILABLE IN THE SOUND FOLDER:
Some of you may have a preference in whether or not you want to always hear the open cylinder cock hiss when you start the engines. I have provided two versions of the .sms files so you can use the version you prefer. In the sound folder are two other folders:
"Cyl Cock Hiss"
and
"No Cyl Cock Hiss"
The engines are originally installed using the .sms files that have the cylinder cock hiss sound present. If you want to try the models without the cylinder cock hiss sound, simply copy the files from the
"No Cyl Cock Hiss" folder into the Sound folder.
If you want to have the cylinder cock hiss sound back again, simply copy the files from the "Cyl Cock Hiss" folder into the sound folder.
******************************************************************************************
LEGAL:
As author of this new design, I advise that it is copyrighted, but royalty free. You may use it and edit it as you wish, but you may not distribute it for money, or include it in a paid or non paid distribution without permission from Derek Miller, who can be reached via personal message at
www.elvastower.com
or
www.trainsim.com
forums (user midneguy). You must include my name in your credits, as well as my copyright notices, and this entire Readme.txt, if you repaint it, use or derive files from it, or otherwise use or distribute these files with my permission. Copyrights for content included in these files, but not created by me as listed in the credits section of this readme.txt, are retained by the original authors. Refer to the included readme text files in the installed "WP22" folder for copyright and distribution information for additional content not authored by Derek Miller.
Because this program is royalty free, it is provided WHERE IS, AS IS, WITH ALL FAULTS, and WITHOUT WARRANTIES OF MERCHANTABILITY or FITNESS FOR A PARTICULAR PURPOSE or any other warranties. There is no liability by the authors in your use of this program, instead all liability is assumed by the user.
******************************************************************************************
CREDITS AND THANK YOUS:
3D Models and textures © 2012 by Derek Miller with the following exceptions:
3D Model of coupler © 2004 Jeff Link and Tim Muir, Coupler Texture base © 2004 Steve Thompson
Engineer and Fireman shapes & textures (a.k.a. "Tom's Crews") are provided for use with this model and may not be copied, modified, and/or transferred to a different model for distribution. For information on adding "Tom's Crews" to models for distribution, contact Tom Werb ("Sandy River Tom") via personal message at ElvasTower.com
MSTS Steam loco photorealistic cab view, suitable for US built, small to medium locos, circa 1910-1935. Operable controls include; throttle, reverse lever, train and engine brakes, bell, whistle, sander and cylinder cocks. From photos of SVRy #19. By Rick Grout and Steve Thompson.
Cabaview also available as a separate download on
www.elvastower.com
( SVRy16cabview.zip ) and
www.trainsim.com
(svr16cab.zip )
Sound credits:
Whistle sound provided by Chris Signorelli & Bill Hobbs, North American Steam Whistle Pack.
Bell sound provided by Captain Bazza, aka Barry R Munro
All other non-default sounds provided by Brandon Smith
Texturing and Modeling Advice (from elvastower.com forums): Rick (thegrindre), Tim Muir, Dave Nelson, Bill Pratt, Alexey Soljenitchev, Fleegle411, Allen Norton, and Herb Kelsey.
Providing my "I can do that" moment: Scott (scottb613 at elvastwer.com forums) and his "big dog - birth of a steam locomotive" series.
Inspiriation and Encouragement: All listed above and those at the elvastower.com forums, both in the thread of the construction of these models, and inspiration from other models I have admired.
Dave Nelson for his help and insight into appropriate locomotive physics and performance
Herb Kelsey for his help in reviewing technical details of the construction of the models, and refinements to the .eng and .wag file variables.
Initial Testing and positive input: Herb Kelsey, Tim Muir, Howard Saunders, Rick (thegrindre), Mike (RailfanML), Allen Norton, Dave Nelson, Brandon Smith
Brandon Smith for providing the .sms concept and the majority of the sound files used
Tom Werb for the use of his excellent "Tom's Crews" cab figures
Chris Allan at the Western Pacific RR Museum in Portola, CA for his assistance with the cab interior color and general arrangement.
If I have forgotten anyone I humbly apologize but know that I appreciate all the advice and inspiration I've received. I also must mention that the vast amount of information available on the forums regarding modeling for MSTS has been invaluable. The success I've had in making these models would not have been possible without drawing on the experience of so many others that have blazed the trail before!
Thank you all and hope you enjoy this model!

Derek Miller
March, 2012

Download File
You cannot upload a new file
Random Files
7 user(s) active in the past 15 minutes

7 guests, 0 Anonymous Users